The sign for the Hidden Oaks apartment complex in Jefferson City Missouri stands bent on May 23, 2019, from an apparent tornado in front of a tree that was ripped apart. (David A. Lieb/AP Photo) The National Weather Service said it had received 22 reports of tornadoes by late Wednesday evening, although some of those could be duplicate reporting of the same twister.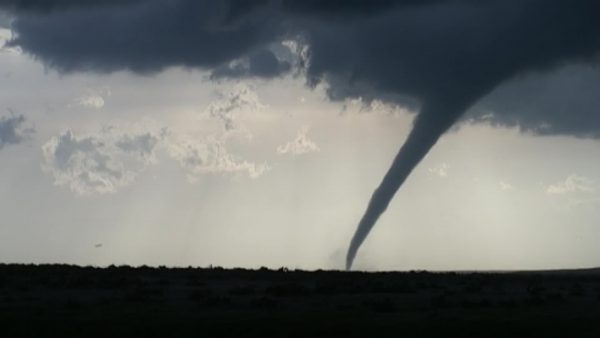 Tornado in Oklahoma on May 18. (KOCO via CNN)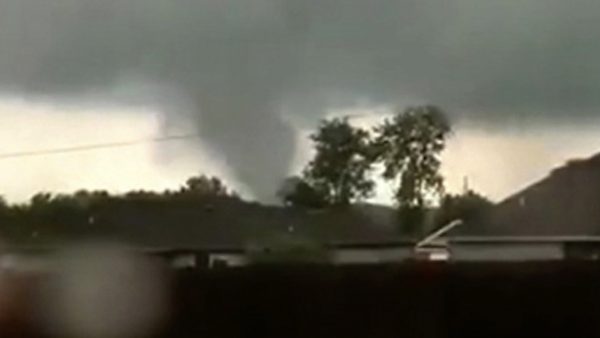 A tornado in Carl Junction, Mo., on May 22, 2019. (Shayla Brooks via AP)'Ravaged Midwest'Storms and torrential rains have ravaged the Midwest, from Texas through Oklahoma, Kansas, Nebraska, Iowa, Missouri, and Illinois.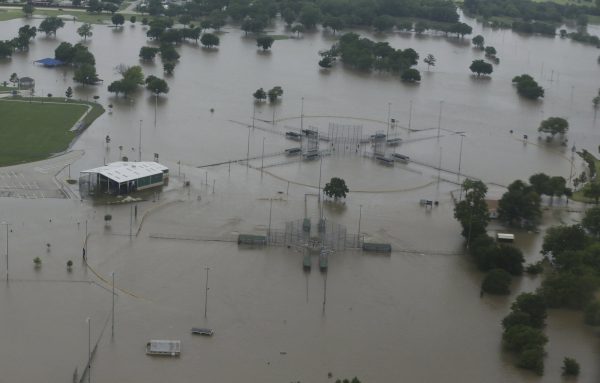 O'Brien Park on North Lewis Ave during flooding on Bird Creek in Tulsa, Okla., on May 22, 2019. (Tom Gilbert/Tulsa World via AP)Two barges broke loose and floated swiftly down the swollen Arkansas River in eastern Oklahoma on Wednesday, spreading alarm downstream as they threatened to hit a dam.Authorities urged residents of several small towns in Oklahoma and Kansas to leave their homes as rivers and streams rose. Severe Thunderstorm Warning continues for Breese IL, New Baden IL, Carlyle IL until 5:30 AM CDT pic.twitter.com/lqkwzQNIBl— NWS St. Louis (@NWSStLouis) May 23, 2019 Share Update: Tornado Kills at Least Three in Missouri, Causes 'Catastrophic Damage' in Jefferson City By Tom Ozimek May 23, 2019 Updated: May 23, 2019 A series of powerful storms late Wednesday, May 22, gave rise to tornadoes that caused "catastrophic damage" in parts of Missouri, causing at least three deaths.The Missouri Department of Public Safety said in a statement that the three fatalities took place in the Golden City area of Barton County.Several people were injured in the Carl Junction area of Jasper County, MO, DPS added.  LINKEDINPINTERESTREDDITTUMBLRSTUMBLEUPON   The Associated Press and The CNN Wire contributed to this article. Follow Tom on Twitter: @OZImekTOM US News Governor Mike Parson said in a statement on Twitter, "Due to the tornado and severe weather in Jefferson City last night we are asking that all non-essential state employees in the Jefferson City area remain at home on Thursday. We have damage to state buildings and power is down in some areas. Please be safe!""The buildings here are crushed," KMIZ reporter Ashley Strohmier said, reporting on location from Jefferson City. "Roofs are collapsed. Trees are on buildings.""The power lines have crushed—absolutely crushed—Riley Chevrolet's cars up front," Strohmier continued, reporting from Ellis Boulevard near Route 54. "It looks like their service building is completely wiped out. There is a semi truck that is flipped over."After the storm hit, "people were crying and running from the apartments, asking where their loved ones were," Strohmier said.Gov. Parson thanked responders for their efforts, The Associated Press reported, and announced that three people had been killed."Across the state, Missouri's first responders once again responded quickly and with strong coordination as much of the state dealt with extremely dangerous conditions that left people injured, trapped in homes, and tragically led to the death of three people," Gov. Parson said. "I want our responders and all the neighbors who acted selflessly to help their neighbors to know how much their heroic efforts are appreciated by all Missourians."WATCH:  QualityAuto 1080p720p480p360p240pRewind 10 SecondsNext UpLive00:0000:0000:00ChromecastClosed CaptionsSettingsFullscreen  click to watch video Jefferson City Police Lt. David Williams said they had received multiple calls of people being trapped in their homes.Two local hospitals were treating a total of about 100 people for unspecified injuries, according to a report. "Hospital staff say ambulances have been in and out all morning," according to KOMU-TV."It's a chaotic situation right now," Williams said. "We need people who are not affected to stay out of those areas." The Arkansas River town of Webbers Falls, Oklahoma, was one such town. Town officials ordered a mandatory evacuation Wednesday afternoon because of the river's rising level.But Wednesday evening, a posting on the town's official Facebook page sounded the alarm about the runaway barges for its 600 residents: "Evacuate Webbers Falls immediately. The barges are loose and has the potential to hit the lock and dam 16. If the dam breaks, it will be catastrophic!! Leave now!!" "More dangerous severe weather—tornadoes and flash flooding—expected overnight," another tweet from Missouri Public Safety said. The "violent tornado" touched down in Jefferson City, Missouri, causing heavy damage on Wednesday, according to the National Weather Service.The service reported that a "confirmed large and destructive tornado" was observed over Jefferson City at 11:43 p.m. Wednesday, moving northeast at 40 mph. The capital city has a population of about 40,000 and is located 130 miles west of St. Louis."Damage reports coming in from Jefferson City are heartbreaking," KOMU meteorologist Matt Beckwith said, noting reports of people trapped in their basements. He added, "If you believe in prayer please pray."NWS St. Louis earlier announced a Tornado Emergency covering Jefferson City, Holts Summit, and Wardsville, lasting until 12:30 a.m. CDT, writing, "This is a life-threatening situation, seek shelter now!" Snapchat video showing damage in the Jefferson City, MO area. Very heartbreaking. Many prayers for everyone impacted tonight. #mowx pic.twitter.com/qWZAfN0Yl1— Christopher Pipkin (@ChrisAlanWx) May 23, 2019 Williams spoke from the Cole County Sheriff's office, where debris such as insulation, roofing shingles, and metal pieces lay on the ground outside the front doors."In Jefferson City, the state capital, there is extensive damage along Ellis Boulevard near Highway 54. Power lines are down," a tweet from Missouri Public Safety said. In Jefferson City, the state capital, there is extensive damage along Ellis Boulevard near Highway 54. Power lines are down. Traffic is being diverted as @MSHPTrooperGHQ & local first responders go door-to-door. Consider all power lines live.Stay out of areas with damage. #MoWx pic.twitter.com/cPWQi1tzCJ— MO Public Safety (@MoPublicSafety) May 23, 2019 There was no word by midnight Wednesday where the barges were on the river, but local television stations showing live video of the river and the lock and dam said they had not yet arrived.The Arkansas River was approaching historic highs, while the already high Missouri and Mississippi Rivers were again rising after a multi-day stretch of storms that produced dozens of tornadoes. Forecasters predicted parts of Oklahoma, Missouri, and Kansas could see more severe weather on Thursday.The NWS posted a Severe Thunderstorm Warning in effect until 5:30 a.m. CDT for Breese IL, New Baden IL, and Carlyle IL. Severe Thunderstorm Warning continues for Belleville IL, O'Fallon IL, Swansea IL until 4:45 AM CDT pic.twitter.com/lbZRlr57rP— NWS St. Louis (@NWSStLouis) May 23, 2019 Law enforcement can confirm three fatalities in the Golden City area of Barton County and several injuries in the Carl Junction area of Jasper County. #MoWx#GoldenCity #CarlJunction— MO Public Safety (@MoPublicSafety) May 23, 2019 Tornado warnings continue in Missouri. Flash flooding hazard will expand as rain continues. Think of safety first. Treat non-working traffic lights as 4-way stops. #TurnAroundDontDrown #MoWx https://t.co/txq2bhgCi3— MO Public Safety (@MoPublicSafety) May 23, 2019 Earlier the NWS posted a Severe Thunderstorm Warning in effect until 4:45 a.m. CDT for Belleville IL, O'Fallon IL, and Swansea IL. Tornado Emergency including Jefferson City MO, Holts Summit MO, Wardsville MO until 12:30 AM CDT pic.twitter.com/6xwmTcIdjv— NWS St. Louis (@NWSStLouis) May 23, 2019 Share this article Show Discussion