Real Madrid Marcelo: Real Madrid behind Zidane until death Harry Sherlock Last updated 1 year ago 22:39 2/13/18 FacebookTwitterRedditcopy Comments(1) Real Madrid UEFA Champions League Real Madrid v PSG PSG Marcelo Zinédine Zidane Videos The Brazil international has backed his manager with a passionate statement as the Spanish giants prepare to face PSG in the Champions League Marcelo claims that Real Madrid are fully behind Zinedine Zidane "until death", as the club continues to stutter.The Spanish giants sit fourth in La Liga, a staggering 17 points behind leaders Barcelona, and 10 behind second-placed Atletico Madrid.Real have won two of their last four games in all competitions, and beat Sociedad 5-2 last time out, but their victory came after a draw with Levante and a Copa del Rey exit at the hands of minnows Leganes. Editors' Picks Lyon treble & England heartbreak: The full story behind Lucy Bronze's dramatic 2019 Liverpool v Man City is now the league's biggest rivalry and the bitterness is growing Megan Rapinoe: Born & brilliant in the U.S.A. A Liverpool legend in the making: Behind Virgil van Dijk's remarkable rise to world's best player With a mouthwatering tie against PSG looming in the Champions League Round of 32, Marcelo has thrown his weight behind Zidane, who remains a club legend."Zidane is a great coach. We are with him until death," he told reporters at a news conference.Marcelo has repeatedly talked up the talents of compatriot Neymar, previously insisting that he will eventually join Los Blancos.And he has now stepped up his charm offensive, as the two prepare to step onto the same pitch this week."I think the Real fans would love to watch Neymar playing for Real Madrid," he said."He is a world star. Every fan would like to have Neymar in their team."Zidane has attempted to look past the gigantic billing given to the clash of Neymar and Cristiano Ronaldo, and Marcelo has echoed his manager's sentiments."Neymar and Ronaldo are great players, that can score in decisive games," he added. "But I think the game is not just on both of them. They are great players."
read more
Liverpool 'Klopp has to start winning trophies' – Liverpool boss offered transfer advice by Souness Chris Burton 02:12 4/1/18 FacebookTwitterRedditcopy Comments(0)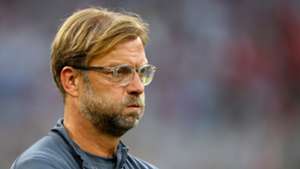 Getty Liverpool Jürgen Klopp Crystal Palace v Liverpool Crystal Palace Premier League The Reds boss has pieced together a competitive side at Anfield but has been told he needs silverware, as well as a new goalkeeper and two midfielders Jurgen Klopp must "start winning trophies" with Liverpool, says Graeme Souness, who suggests a quality goalkeeper and two more creative midfielders are required to aid him in that quest.The Reds have remained a competitive Premier League outfit since bringing their German coach to English football, but their wait for silverware goes on.Kenny Dalglish was the last man to win a trophy with the club in the shape of the League Cup in 2012, and the Champions League remains the only title up for grabs to the class of 2018. Article continues below Editors' Picks Lyon treble & England heartbreak: The full story behind Lucy Bronze's dramatic 2019 Liverpool v Man City is now the league's biggest rivalry and the bitterness is growing Megan Rapinoe: Born & brilliant in the U.S.A. A Liverpool legend in the making: Behind Virgil van Dijk's remarkable rise to world's best player Klopp will be hoping to go close in the challenge for European glory, but has been left in no doubt that tangible success must be achieved soon if he is to keep guiding the club forward.Reds legend Souness told Sky Sports, while offering transfer advice: "They have to start winning trophies as that is what you are judged on ultimately and that is the only thing that is missing."You have to say that whoever is responsible for the players coming in there have done really well."There are some fabulous players and Naby Keita is coming in the summer [from RB Leipzig] and he might just give them that extra bit of quality that I think they need in midfield."I think they need someone in midfield who sees a different picture. The three that they have got in there today [Jordan Henderson, James Milner and Georginio Wijnaldum] – and I include Emre Can in that – are all very good players, all very workmanlike and do a great job for the cause."But none of them have got that real magic and maybe he [Keita] will give them that."And a goalkeeper and a Kevin De Bruyne and a David Silva."Souness, who managed Liverpool to FA Cup glory in 1992 added: "I think they are certainly on the right road, they just need to win a trophy."And if you win one, then it makes it so much easier going forward because you start to believe in yourself."Liverpool are set to face Premier League rivals Manchester City in the Champions League quarter-finals, with the first leg of that contest set to be staged at Anfield on Wednesday. Subscribe to Goal's Liverpool Correspondent Neil Jones' weekly email bringing you the best Liverpool FC writing from around the web
read more
Round Two of the PowerAde Isotonic South East Queensland Touch League (SEQTL) produced some close and exciting results at the Brisbane Metropolitan Touch Association's White Hill Reserve Complex on Friday 15 June 2007.In balmy conditions, teams across all six divisions settled into the second week of the season well to conjure quality performances across the board.In the Premier Men's Open division, University-Rebels (Uni-Rebels) and Dodgers played out a tense 2-2 draw on field one in the PowerAde Isotonic SEQTL Match of the Round.2007 Australian Men's Open World Cup hero Nathan Jones was outstanding for Dodgers, whilst veteran Graham White produced an inspirational game for the Rebels boys.In the 8.10pm game on field seven, Colts continued on their winning way with an impressive 5 –2 victory over the Southern Storm. Colts, with Barry Denduck leading the way, had too much firepower for a willing Storm side that was spearheaded by Queensland Men's Open Origin player Ryan Pollock, who did not deserve to be on a losing team.In the late game at 9.00pm on Field One Country Club United (CCU) disposed of Tigers 5-1 in emphatic fashion. Young gun Michael Baartz stood out for CCU, whilst Josh Cattell never stopped trying for Tigers.In the second Round of the PowerAde Isotonic SEQTL Women's Open competition, Uni-Rebels, Crushers, and CCU emerged victorious from some absorbing contests.In the early game at 7.20pm on field seven, Uni-Rebels got home 3-0 over Colts in a very willing contest.The scores were locked at 0-0 at half time, but defending champions Uni-Rebels did best to finish off their second half opportunities to claim the three premiership points.Lauren Mc Donald and Australian Women's Open star Teena Mc Ilveen were best for Uni-Rebels, whilst Colts 2007 World Cup representatives Peta and Hayley Rogerson and youngster Savannah Pratten gave their all for Colts.In the PowerAde Isotonic SEQTL Women's Open Match of the Round on field one at 8.10pm, Crushers defeated Dodgers 6-3 in an entertaining encounter.Crushers, inspired by an outstanding performance by current Australian Women's Open Vice Captain Amanda Judd, banded together to produce a great team effort to claim their first victory of the season.Judd was in scintillating form with the football in hand, and led the way defensively with several big plays to pilot her team to victory.National Youth Squad member Bindi Hammett, Sharon Searston, and Melissa Cragg also played strongly for Crushers whilst Michelle Gilpen, Rachel Stevenson, and Emma Giarola tried hard to lift Dodgers.In the late game on Field Seven at 9.00am CCU got home 4-3 in a tense battle over former archrivals Southern Storm.These two great clubs battled in eight consecutive Grand Finals from 1997-2004 and history demands that these games are always keenly contested.CCU, with a strong list of players on their roster were always going to be tough to toss once they clicked, and their victory over a talented Southern Storm combination adds further weight to this contention. Queensland Open Schoolgirls star Lizzie Campbell was the standout for CCU, whilst National Youth Squad star Ali Brigginshaw was the Storm's most dangerous player.In PowerAde Isotonic SEQTL Men's Open Round Three action on Friday 22 June 2007, Southern Storm confront Tigers on Field One at 7.20pm.Dodgers and CCU will meet in the 2006 Grand Final rematch on Field Seven at 8.10pm, whilst Uni-Rebels will tackle Colts on Field One at 9.00pm to complete the round.In PowerAde Isotonic SEQTL Women's Open Round Three fixtures, competition front-runners Uni-Rebels will look to continue on their winning way against a confident CCU outfit on Field Seven at 7.20pm.Southern Storm will meet Crushers at 8.10pm on Field One, and Colts with an edict from Coach Craig Morrow to improve their ball control and rucking intensity, will battle with Dodgers in the late game at 9.00pm on Field Seven.Round Three PowerAde Isotonic action also continues in the Men's and Women's Two and Three A/B divisions on Friday night with first games commencing at 6.30pm.For full results and fixture schedule please visit the Brisbane Metropolitan Touch Association web-site at: www.bmta.com.au
read more
New Zealand's 3 News covered the Youth Trans Tasman series with future hopes for the games outlined.To view the piece, please visit http://www.3news.co.nz/Video/Sports/tabid/317/articleID/87290/cat/70/Default.aspx#video
Are you looking for a thrilling career in the sports industry? Touch Football Australia (TFA) is seeking suitably qualified applicants for positions in our Western Australia, Northern Territory and Victoria office. Please click on the respective jobs below to open the Position Description.Events and Competitions Coordinator (Western Australia)Applications for this opportunity close at 5.00pm (AEDT) on Wednesday, 1 March 2017.Part Time Events and Competitions Coordinator (Victoria) Applications for this opportunity close at 5.00pm (AEDT) on Wednesday, 1 March  2017.For further information or to lodge your application for these career opportunities, please email careers@touchfootball.com.au.State Operations Manager (Northern Territory) Applications for this opportunity close at 5.00pm (AEDT) on Wednesday, 15 March  2017.Sport Operations Coordinator (South Australia)Applications for this opportunity close at 5.00pm (AEDT) on Wednesday, 15 March  2017.For further information or to lodge your application for this career opportunity, please email recruitment@touchfootball.com.au.Related LinksPositions Vacant
read more
About the authorPaul VegasShare the loveHave your say Liverpool's two goal Shaqiri: I always try to make an impactby Paul Vegas10 months agoSend to a friendShare the loveLiverpool's two goal Xherdan Shaqiri was delighted with his role after their 3-1 win over Manchester United.Speaking to Liverpoolfc.com after the final whistle, the Switzerland international explained how he used his natural disappointment with being a substitute as motivation to influence the outcome when he got a chance."Every player is not happy when he is on the bench, that's pretty normal. But only 11 players can play – the coach decides," said Shaqiri to liverpoolfc.com."I always try to make an impact when I come on or play from the beginning. Today was a very good impact with the two goals, I'm delighted."He added: "It was an amazing win and important, too. We played very well. In the second half, we did more than Manchester United – we tried and tried. In the end, we fully deserved to win this game."When you see the statistics, we did everything in this game to win. It was very intense and we kept the high intensity in this game. It was an important win and a nice win against Manchester United."
read more
​Robertson deflects praise to Liverpool teammate Clyneby Freddie Taylor10 months agoSend to a friendShare the loveLiverpool full back Andy Robertson is not one to have an inflated ego.And despite praise from then Manchester United manager Jose Mourinho after Liverpool's 3-1 win over the Red Devils, Roberston was in a graceful mood.He preferred to talk up his teammates for their impressive performances in the league win.He said of Mourinho's comments after the game that he ran all day: "It is just part and parcel of my game, I will keep on going until the end."I got a bit of space, particularly second half and the gaffer is always banging on to me and Trent, more so this season, that we have to be more involved and I was just tried to do that."Special mention goes to Clyney today, being out for so long and my God, he done brilliant. He has had his struggles with injury but he put in a first-class performance and that just sums up our squad at the minute." About the authorFreddie TaylorShare the loveHave your say
read more
About the authorFreddie TaylorShare the loveHave your say ​Lovren insists Liverpool feel no pressureby Freddie Taylor10 months agoSend to a friendShare the loveLiverpool defender Dejan Lovren does not believe pressure is an issue for the Reds.It is the best chance the club have experienced to win the Premier League in a long time.They are now six points ahead of Tottenham and seven up on champions Manchester City.But Lovren believes no one is under pressure in the Reds dressing room, as they are only concerned about performing in the next game."It's only about us and that's how we should do it always. We learn from these previous seasons," the defender said to the club's official website."There's no pressure. In the previous years, yes, but now when you look in the dressing room, when you go into Melwood in the morning, everybody is happy, nobody talks about anything other than the next game."We can't talk about something that will happen in five or six months. We go game by game and we will see where we finish. "For us, every game is a final. It's good to hear all these positive words but we don't live on these positive words, we live on winning games."
read more
About the authorPaul VegasShare the loveHave your say Man Utd boss Solskjaer delighted with Rashford, Lukaku for Bournemouth routby Paul Vegas10 months agoSend to a friendShare the loveManchester United boss Ole Gunnar Solskjaer was delighted with his goalscorers for victory over Bournemouth.A cavalier display in the first half at Old Trafford saw United score three times, with Paul Pogba netting his second double in successive matches and Marcus Rashford grabbing the other.Solskjaer's side conceded their third goal in as many games when Nathan Ake headed in before substitute Romelu Lukaku fired home a fourth.The manager said, "I think Marcus has been different class since I have come in. He has scored two goals now in three games. His work rate is unbelievable. He closes down, chases, runs in behind and his skill for the first goal for Paul today was [brilliant]. The first thing is he holds up the ball up and hasn't got the right to go past the first defender, but then to go past the second defender… he has got all the potential in the world to be a top, top striker."On Lukaku, he also stated: "He is a good, good target man, but if you tell him to be a target man he will never face the goal. Today he was side on, so he could go in behind or go towards the ball and he has got the attributes of a top striker, but we need to work on his fitness because he has had a few days off, but I am delighted for him even though he was half a yard offside, but it was still a good finish."
read more
About the authorPaul VegasShare the loveHave your say Huddersfield out of FA Cup after Bristol City defeatby Paul Vegas10 months agoSend to a friendShare the loveHuddersfield Town are out of the FA Cup after a 1-0 defeat at Bristol City.A third-round tie low on quality was settled by Josh Brownhill's 72nd-minute strike, the midfielder dispatching his fourth goal of the season after twisting and turning in a congested penalty area.Until then, after a largely forgettable first half, Huddersfield had looked the more likely winners with half-time substitutes Alex Pritchard and Steve Mounie adding pace and purpose to their attacks.But Huddersfield are bottom of the Premier League for a reason, they have scored only 13 times in 21 top-flight games and have little, if any, confidence in front of goal.Against Bristol City, opponents unbeaten in eight Sky Bet Championship games, and increasingly finding form as the season unfolds, it was to prove their undoing.
read more
Skriniar? Godin? Why Man Utd owe Solskjaer a defensive dealby Chris Beattie10 months agoSend to a friendShare the loveCOMMENT: So blank it? Let this transfer window pass? No chance. Manchester United will be active this month. Indeed, they already are. Though whether it's a ruse for a longer term target. Or one to get in immediately. Only Ed Woodward can tell us that…The idea that United's vice-chairman exec is going to sit this one out. That he'll wait until the summer. Wait until Ole Gunnar Solskjaer has been discarded for the more acceptable, marketable name. Well, given his history, that just doesn't stack up.Louis van Gaal never asked for Angel di Maria nor Radamel Falcao. Jose Mourinho had no idea about Eric Bailly until they were being introduced at Carrington. If there is a deal to be done, then Woodward – and to be fair, in consultation with Jim Lawlor – will pull the trigger. From Italy, it's broke in the last 48 hours. They're in for him. Diego Godin. Turned down once in August after a beat the deadline offer. Woodward has moved late – again – with an attempt to rumble Inter Milan's month-long negotiations with the Uruguayan's minders.The latest is Woodward has matched Inter's contract offer of around £2m-a-year. And with his current deal to expire in June, both clubs believe Atletico Madrid will sell for a bargain basement £3m.For the moment, those in the know – specifically in Milan – believe Godin is ready to commit to the Nerazzurri. The great irony being, it was Woodward who set this whole thing in motion six months ago. Need an explanation? Well, let's turn to the defender's biographer Jose Navarro, who declared on Saturday night: "Godin has not closed any deal with Inter. But the reality is that Atletico made some promises to the player, after the Manchester United bid, and they never respected it. And then they made no effort to renew Godin's contract."So promises broken and a deal still alive. Woodward could be in here. We know – sans Jose – United still want that cheap, experienced centre-half signing. The enquiries after Andreas Granqvist, the Helsingborgs captain, had Lawlor's finger prints all over it. With the opportunity again raised, Inter's intermediaries can't be surprised by United's eleventh hour attempt.But there's another factor to be considered. Another player in this mix. Milan Skriniar. Inter Milan's Slovakian centre-half. Admired by Jose Mourinho. Approved by Woodward. Before Godin, a bid of €70m was lodged for Skriniar and flatly rejected by the Italians. The player stating at the time: "I'm happy about the interest in me, but Inter decided how they decided, so I cannot say anything more about it."And the same source making that €70m revelation is now insisting Inter's move for Godin would be to replace Skriniar, not complement him. Further strengthening United's hand is Barcelona – their nearest rivals for the defender – taking Jeison Murillo on-loan from Valencia just last week. Find that €70m and Woodward could have his man – so long as he steps aside for Inter to take Godin.So where does this leave Solskjaer? Well, simply in the same place as all those before him. Van Gaal, Mourinho, David Moyes… even Ryan Giggs. They had their say. Sure. But they didn't really have power of veto. For his part, Solskjaer will surely welcome a defensive signing. He didn't make light of having to move Matteo Darmian inside for Saturday's FA Cup win over Reading. Just as Mourinho suffered before him, the Norwegian has found the squad short at the back. Whether it's Godin, Skriniar or some equivalent, Solskjaer will appreciate the show of support.And he deserves it. Even battling through a labourious 2-0 win over the Royals, the manager still found a way to lift the crowd. Two five goal results. The revival of Paul Pogba. The confirmation of Marcus Rashford. Solskjaer has been delivering way beyond his brief. And he read the mood superbly on Saturday, spying the chance to give everyone inside Old Trafford a lift with the debut of Tahith Chong.It could've been just a ho-hum win. Expected. Forgettable. Instead, Solskjaer gave those attending something special. An 'I was there' moment as he gave Chong a first home appearance.Any of those ex-teammates warning against business this month. That making a major signing for Solskjaer would be wrong given he'll be gone by June. They need to consider recent history.No matter whom is in the home dugout, Woodward will buy regardless. And if it's to be a defender who can make an instant impact all the better. It's the least the current manager deserves for what he's done for Manchester United in these three short weeks. TagsTransfersOpinionAbout the authorChris BeattieShare the loveHave your say
read more
TagsTransfersAbout the authorPaul VegasShare the loveHave your say Luiz reveals Cesc gave farewell speech to Chelsea playersby Paul Vegas10 months agoSend to a friendShare the loveDavid Luiz has revealed Cesc Fabregas gave a formal farewell speech to Chelsea's players over the weekend.While no deal with Monaco is as yet confirmed, Fabregas is expected to soon sign for them."He did a speech and then after that we all say thank you for him, and hug him," David Luiz revealed."I think it's an emotional day not just for him, for everybody. One of the best players playing in England was him, everyone knows that. Sad for everybody when you lose this kind of player, this kind of person, but I think everybody has to stand up and clap the hands for him because he deserves it."It's always difficult to lose players, especially like him, because like I say he's a world-class player but also I understand it's part of the process, and if it's better for him and better for the club, we have to understand that."Fabregas won two Premier League titles, a League Cup and an FA Cup with Chelsea, and Luiz said it was that champion's assertiveness that would remain in the memory."I think he won everything with this club. My memories are always going to be with the world-class player, with the great technique, he's a great guy."He has experience. He knows football, I think he had the opportunity to learn in many different changing rooms when he was so young, before, so he brings always a confidence, energy for the team, and then in the pitch he showed that it doesn't matter the game, he's always going to show his qualities. Sad. It's really sad for us. We are wishing him all the best, because he deserves it."
read more
TagsTransfersAbout the authorPaul VegasShare the loveHave your say Southampton, Man City target Leeds youngster Jack Clarkeby Paul Vegas9 months agoSend to a friendShare the loveLeeds United have warned suitors off teenage starlet Jack Clarke.Southampton boss Ralph Hasenhuttl has joined Manchester City rival Pep Guardiola in showing interest in the 18-year-old Clarke because of his storming debut campaign for Leeds.But Leeds are adamant academy-product Clarke is not for sale and want the winger to grow with them, hopefully next season in the Premier League, reports the Mirror.Leeds have shown their faith in Clarke by handing him the biggest contact for an Under-18 player in their history and his deal has three years left to run.
About the authorFreddie TaylorShare the loveHave your say Leicester boss Rodgers: Henderson suspension cost Liverpool titleby Freddie Taylor22 days agoSend to a friendShare the loveLeicester City boss Brendan Rodgers has suggested it was Jordan Henderson's suspension and not a slip from Steven Gerrard that cost Liverpool the 2013/14 Premier League title.Rodgers' Liverpool side won 12 of their last 14 Premier League games at the end of the 2013-14 season.But a loss to Chelsea – in which the infamous Gerrard slip occurred – and a draw at Crystal Palace saw Manchester City claim the title.Speaking ahead of a reunion with his former club this weekend, Rodgers says it was the loss of Henderson which caused them to drop points."The story that went unnoticed was Jordan [Henderson] was unavailable for three of the last four games because of a last-minute sending off against City,'" he told The Telegraph."He was a huge miss for us that day (against Chelsea). "But as time goes on and you see the images and you realise how well we played that season so I don't lose sleep about it."
read more
About the authorPaul VegasShare the loveHave your say Hyypia says Liverpool can be proud outshining Man Cityby Paul Vegas13 days agoSend to a friendShare the loveLiverpool Champions League title winner Sami Hyypia says the club can be proud outshining Manchester City.With Pep Guardiola's City stars certain to fight until the end this season, Hyypia believes, if ­Liverpool do win the Premier League title, it will make victory even more remarkable."If someone creates a great team like City, you can't stop that," he said. "We lost one game and City won the title, so you have to hold up your hands as we did all we could to win it."They even gave us credit for pushing them to the very end. That's why, if we win, it'll be even better as City are just so good ."To win in an era where your rival is so good merely heightens the achievement."
read more
Ex-Wolves stalwart Edwards lauds strong leader Coadyby Ansser Sadiq8 days agoSend to a friendShare the loveFormer Wolves stalwart Dave Edwards has praised Conor Coady for his leadership skills.The former Liverpool man has been a mainstay for Wolves since Nuno took over the dugout.Edwards said: "Conor has always been a leader. He's so vocal – such a big talker."He's like that every single day in the dressing room, and such a happy guy as well, always having a smile on his face."That raises the energy in training and around the place, even when you've lost a game."Conor was the natural choice for Nuno, and he has revelled in the centre of defence."It was a natural option. He can see the pitch from there and organise."He has been a leader since he was a teenager, captaining England at youth level. I just hope he gets a chance at senior level with England now." About the authorAnsser SadiqShare the loveHave your say
read more
Joe Gomez says Liverpool as "blessed" to have a manager like Jurgen Klopp after the German guided them to their sixth European Cup triumph.The Reds were greeted by an estimated 750,000 fans as they returned to Merseyside on Sunday following their 2-0 victory over Tottenham in Madrid the previous night.Centre-stage, naturally, was Klopp – smiling, drinking, waving and dancing. A relaxed man, having ended Liverpool's seven-year wait for a trophy. Article continues below Editors' Picks 'There is no creativity' – Can Solskjaer get Man Utd scoring freely again? 'Everyone legged it on to the pitch!' – How Foden went from Man City superfan to future superstar Emery out of jail – for now – as brilliant Pepe papers over Arsenal's cracks What is Manchester United's ownership situation and how would Kevin Glazer's sale of shares affect the club? On Saturday night, he had been throw into the air by his players at the Wanda Metropolitano stadium, the celebrations carrying on long into the evening.For Gomez, 22, it was the first silverware of his club career. The defender was a late substitute against Spurs, and credits Klopp for Liverpool's success."It's only right [the celebrations with the manager]," he said. "All of us have so much gratitude to have a manager like him. "For me personally he has done so much for me and all the lads think the same. He is an unbelievable manager and someone we owe a lot to. It shows the togetherness in the group and how much we all value him as a manager."Gomez added: "It is just his energy. Not just the tactical side of things but him as a person, that's why there is such a connection. That is why we want to play for him, why we want to celebrate with him when we win because he is one of the reasons we do it. "It is special. He brings so much value to us and he shows us what it means to play for this club."I am quite young but I know I am blessed to have a manager like him. I don't think there are many out there who does what he does. We are lucky."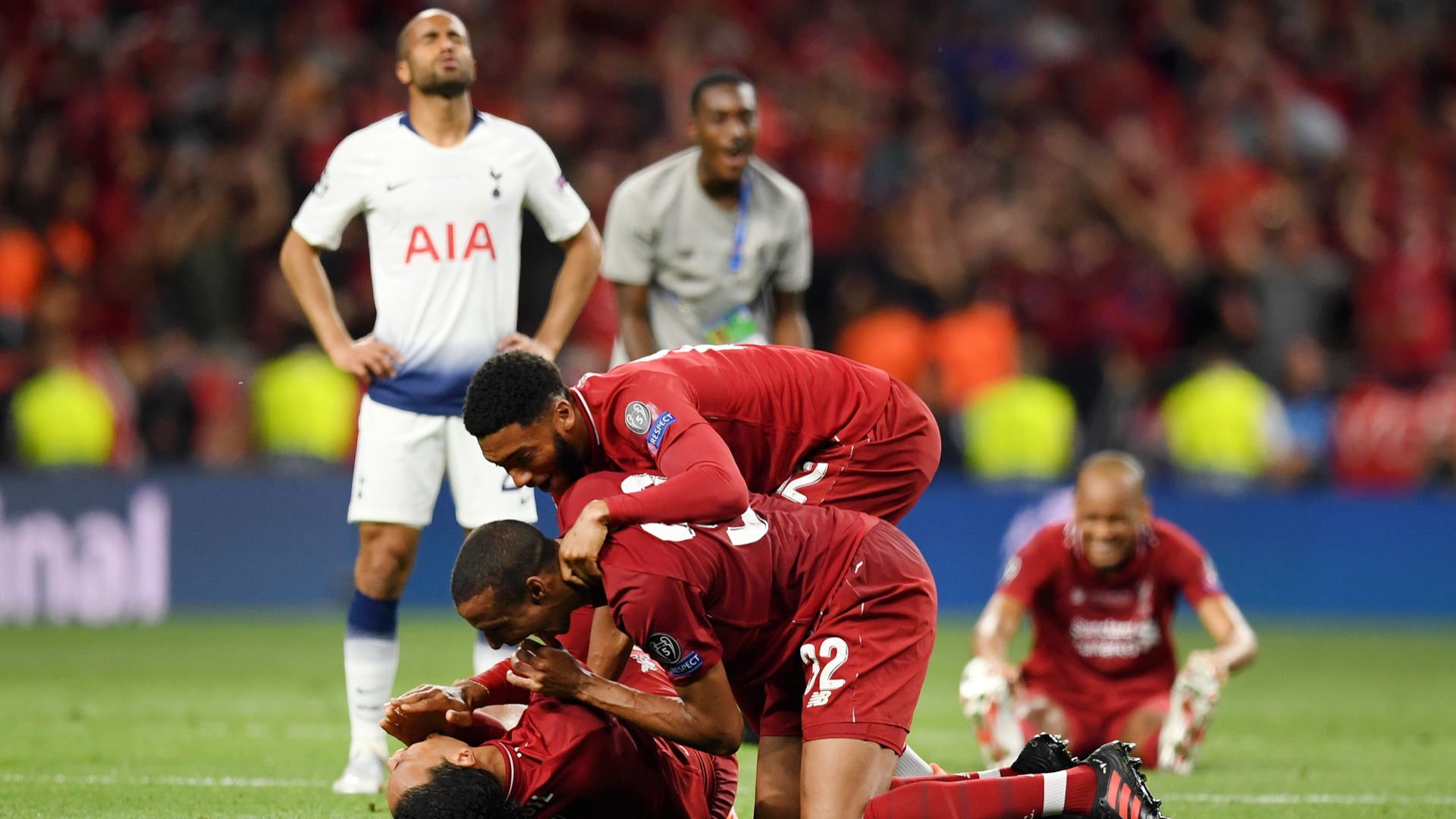 Gomez also singled out captain Jordan Henderson, whose leadership qualities have been key in establishing the Reds' admirable team spirit."Unbelievable," he said. "I don't think there are many better captains than him. I think as a person he is one of the best there is and he deserves so much. "He's had tough times but for me, ever since I came to the club, I've had a real connection with him and no-one deserves it more than him and I am so happy he was the one to lift it for the sixth time for this club."For Gomez himself, he can reflect on a season of promise as well as frustration. Outstanding alongside Virgil van Dijk at centre-back in the opening months of the campaign, a broken leg interrupted his progress. By the time he returned, Joel Matip had cemented his place."I've had some tough times and it's a battle to come back from it," Gomez said. "But I've never doubted myself and I never will. "It is not easy to come back from injuries but it is part of the game and happens for a reason. It is a blessing to play for this club and I just have to go again. I am more motivated than ever and getting a taste of this is something which will drive me on next season."@J_Gomez97 🥳 🥇 pic.twitter.com/HXt4EKJMEr— Peter Staunton (@petermstaunton) June 1, 2019Gomez echoed the thoughts of several Liverpool team-mates when suggesting that this success could usher in a new era of glory at Anfield. And he believes the fact the club can hang on to its star names – Klopp included – will be key."That is the main thing," he said. "That's what we all know. We are here together to stay and I think the boundaries are limitless. "Who knows, we just have to keep grounded, stay focused and keep doing what we are doing and hopefully we can get some more."The manager said we are a team together, staying this way, and that is the main thing. We have a foundation which will stay and only get stronger so all our belief in what we can do is at an all-time high." Subscribe to Goal's Liverpool Correspondent Neil Jones' weekly email bringing you the best Liverpool FC writing from around the web
read more
England defender Kyle Walker has signed a two-year contract extension to keep him with Manchester City until 2024.Goal confirmed that Walker was set to pen a new deal with the club on June 14, with Pep Guardiola's side having now made the official announcement over the new terms for the right-back.City have decided to offer the 29-year-old an extended contract despite their interest in Joao Cancelo, who is closing in on a €50m (£45m/$56m) switch to the Etihad Stadium. Editors' Picks 'There is no creativity' – Can Solskjaer get Man Utd scoring freely again? 'Everyone legged it on to the pitch!' – How Foden went from Man City superfan to future superstar Emery out of jail – for now – as brilliant Pepe papers over Arsenal's cracks What is Manchester United's ownership situation and how would Kevin Glazer's sale of shares affect the club? Walker joined City from Tottenham in an initial £50 million ($63m) move prior to the 2017-18 season and became a key first-team performer as Guardiola's side claimed back-to-back Premier League titles.The 29-year-old has also won the Carabao Cup in each of his campaigns at the Etihad Stadium to date and collected an FA Cup winners' medal last month, as City concluded 2018-19 with a 6-0 win over Watford at Wembley to complete an unprecedented domestic treble.That win over Watford saw Walker make his 100th appearance for the club and he has designs on winning further major honours having renewed terms that initially ran to the end of the 2021-22 season."I'm thrilled to have signed a new deal," he said. "Playing for City has been everything I'd hoped it would be and more."It was an easy decision. I want to be competing for trophies, playing at the highest level, and I feel I have improved hugely as a player during my time here."The club's vision – both on and of the pitch – matches mine perfectly and I'm looking forward to spending the next five years here, hopefully winning more silverware."Walker showed his versatility when he operated on the right of three centre-backs throughout England's run to the semi-finals of the 2018 World Cup.Gareth Southgate's reversion to a back four means he now faces stiff competition for a starting place from Liverpool's Trent Alexander-Arnold at international level, while Joao Cancelo's arrival will mean he will need to fight for his place at City too.However, the club's director of football Txiki Begiristain offered assurances that the player remains vital to the club's plans over the coming years."We are delighted to have Kyle here for a further two years," he said. "His strength, speed and ability have been vital to our accomplishments. He is a key member of the squad."His experience is invaluable, particularly to the younger members of the team, and his contribution will be crucial in our efforts for continued success."City face Liverpool in the Community Shield at Wembley on August 4 before beginning their Premier League defence six days later at West Ham.
read more
Barcelona youngster Marc Cucurella is once more heading out of the Blaugrana as they confirmed a loan move for the defender to Getafe on Thursday. Cucurella, 20, had been re-signed from Eibar on Tuesday for a fee of €4 million, with Barca making use of their buyback clause to repatriate the prospect. Now, just two days later and as previously revealed by Goal, he is gearing up for a fresh start at fellow Liga side Getafe, marking a hectic transfer window for the left-back. Article continues below Editors' Picks Emery out of jail – for now – as brilliant Pepe papers over Arsenal's cracks What is Manchester United's ownership situation and how would Kevin Glazer's sale of shares affect the club? Ox-rated! Dream night in Genk for Liverpool ace after injury nightmare Messi a man for all Champions League seasons – but will this really be Barcelona's? Incredibly, this Getafe switch marks a third transfer for the player in less than three months, after Eibar exercised their purchase option on Cucurella at the end of May only to almost immediately send him back to Catalunya."Barcelona and Getafe have come to an agreement over the loan of Marc Cucurella to the Madrid club for the 2019-20 season, with a purchase option for €6m," Barca confirmed on their official website."In that case Barcelona would be entitled to 40 per cent of the player's future transfer fee from Getafe to another team. "Barcelona would like to publicly express their gratitude to Marc Cucurella for his commitment and dedication and wish him luck and success for the future."Getafe finished the 2018-19 campaign in fifth place in La Liga, meaning they secured Europa League qualification for the upcoming campaign.That played a big part in Cucurella deciding to join the Madrid-based club, where he is likely to be given more exposure to the first team than he would have had at Barca, who already possess Jordi Alba in that position.Acuerdo con el Getafe por la cesión de Marc CucurellaTodos los detalles 👉https://t.co/oXXbifKBaz 👈 pic.twitter.com/s9uJuDpM1M— FC Barcelona (@FCBarcelona_es) 18 de julio de 2019The decision to sell the former Spain youth international does mean that Barca will look to recruit an alternative back-up option for the left side of defence, with Real Betis defender Junior Firpo on their radar.The 22-year-old made 24 appearances in Spain's top flight for Betis last season and any deal for the defender is likely to include Juan Miranda heading in the opposite direction.Cucurella started his career as a trainee at Espanyol before switching to Barcelona in 2012. A stalwart in the club's 'B' side in previous seasons despite his tender age, he leaves Camp Nou without a single senior appearance to his name, although he did play more than 30 Liga matches for Eibar in 2018-19 while out on loan.
read more